​Revisión de Listas Negras

Revisa Listas Negras De Forma Automática Y En Tiempo Real

Se hace una Revisión de Listas Negras una vez realizada la verificación de identidad y que estamos seguros que la persona es quien dice ser, de esta manera podemos estar seguro de conocer a nuestro cliente (KYC por sus siglas en inglés) y que con quien haremos negocios es una persona que no ha sido implicado en algún tipo de crimen, terrorismo o lavado de dinero.

Listas Negras Que Revisamos
Politically Exposed Persons
World Presidents Database
CIA World Leaders
Every National Parlament Politician
EU Members of Parliament
CoE Parliamentary Assembly Crime
GB Insolvency Disqualified Directors
EEAS Consolidated List
Kyrgyz FIU National List
INTERPOL Red Notices
Sanctions Lists
UN Consolidated Sanctions
SDFM Blacklist
Swiss SECO Sanctions/Embargoes
OFAC Consolidated List
US Denied Persons List
GB Consolidated List of Targets



Captura Tu Identificación
Toma una foto de tu identificación con tu celular o webcam.


Tómate Una Selfie O Captura Tu Huella Digital
Mediante una Selfie o tu huella digital el motor biométrico se asegura de que tu identidad es correcta.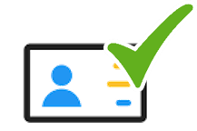 Verificación Contra Bases De Datos
Extraemos los datos de los documentos y consultamos listas de sanción para asegurarnos que el cliente no se encuentra en ninguna de ellas.